I love this quote from Steuart Henderson Britt — "Doing business without advertising is like winking at a girl in the dark. You know what you are doing but nobody else does."
The same is true for writing valuable web copy. If you can't seize the attention of the people you can help, you might as well be winking at them in the dark.
Unfortunately, attention is one of the scarcest commodities in the world today.
There are 3 things that are psychologically-proven to draw the attention. Well, really there are 4, but the fourth one kinda goes without saying
danger
entertainment
curiosity
surprise, which is sort of a combination of the other three.
In my guest post on the Orbit Media blog, I discuss specific ways web writers can leverage danger, entertainment and curiosity to surprise their audiences and grab their attention. The article also includes some of the best examples of other writers putting these psychological forces to work.
Here are a few that didn't make the cut:
Danger
How about this example from my inbox today:

Doom and gloom is a powerful motivator, always has been. And with the recent craziness in the financial markets, "danger" headlines abound.
Your wallet (which you are quite fond of) is in trouble, and if you just read this email, you'll be prepared to protect yourself.
For a certain audience, headlines like this are nearly impossible to ignore.
Entertainment
Your camera advertisements can talk about frames per second, lenses and apertures — or you can shoot a video like this:
Did you watch the entire 4 minute video? Exactly.
The title of the video is pretty attention-grabbing, too: Locked in a Vegas Hotel Room with a Phantom Flex. The active verb (locked), the intrigue of "what happens in Vegas, stays in Vegas"… and for camera fiends, the prospect of playing with a $100K camera. All juicy details.
(Note: Don't get me wrong; you do have to talk about the features of your product or service. But, more often than not, you should lead by demonstrating the benefits, the transformation that your product creates.)
Curiosity
Bill Jayme's famous direct mail envelop for Psychology today is a classic study in curiosity. Questions are always a good way to engage people, and a question like "Do you close the bathroom door even when you're the only one at home?" is a doozy. It does more than force your brain to come up with an answer; it makes you wonder, "why do I do that?" and "what does that mean about me and my personality."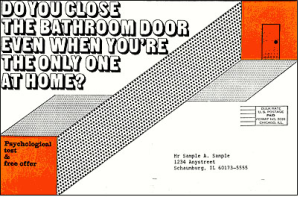 The teaser copy makes you want to find out more about the human mind — YOUR mind to be precise. And now that you've started thinking about it, your brain practically begs for more insight into the meaning of it all.
Masterful.
Read the full article, The Psychology of Attention: 10 Lessons for Web Writers from Deez Nuts  on the Orbit Media blog.
The most famous formula for selling, e.g. AIDA, starts with attention. Without attention, you don't have a chance of selling, educating or effecting any kind of change for your readers. You are constantly competing for space and time in the mind of your competitors and every other distraction your should-be customers have to deal with.
This study on the psychology and application of attention will help give you an edge in this battle.
(You may also like to check out Attention-Jacking with Terry Crews)