Read Part 1 of Unexpected Insight for the Christian Entrepreneur.
"On hearing it, many of his disciples said, 'This is a hard teaching. Who can accept it?' Aware that his disciples were grumbling about this, Jesus said to them, 'Does this offend you?
"From this time many… turned back and no longer followed him." – John 6:60-61,67 (NIV)
Although Jesus' spoke His words to everyone, they weren't accepted by everyone. In fact, scripture says that many people deserted Him because of His teaching.
Was this a surprise? Of course not. Verse 64 indicates that Jesus knew some would stumble. So why did He say what He did, knowing that He would alienate a significant portion of His audience?
Because the truth is the truth, no matter who rejects it. The truth will appeal to some and offend others. But the essential message itself must never be changed or watered down to make it more palatable to a wider "market."
What in the world does this have to do with your business? More than you may think. Take a look at this Charles Atlas advertisements from the 1930s: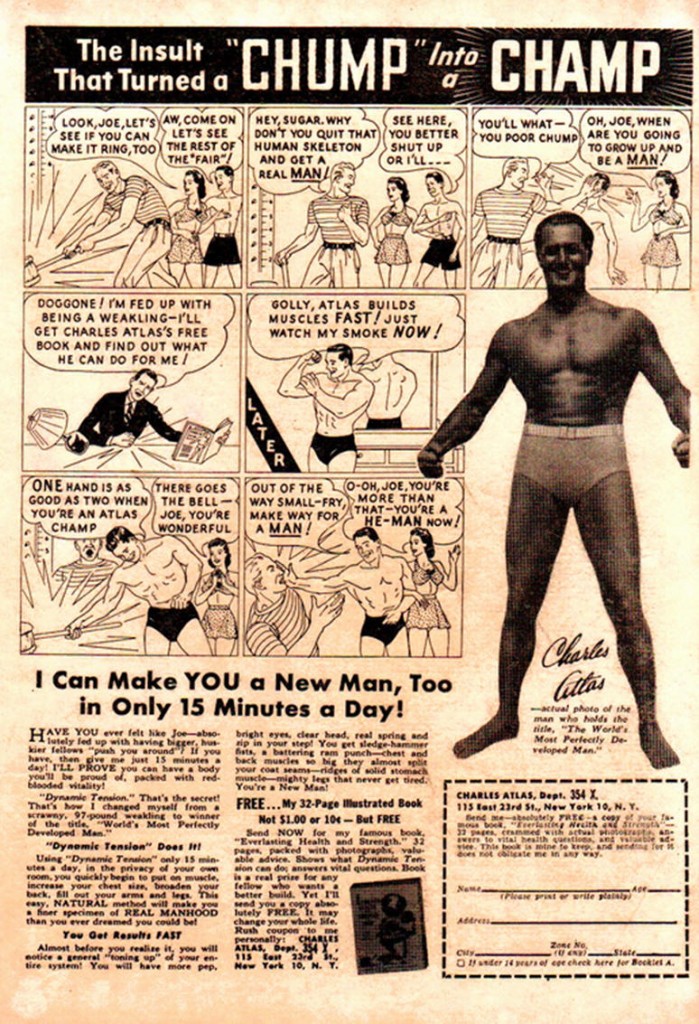 Can you think of anyone who might find this (or the many other similar ads he ran) offensive? Did the potential backlash stop him from running them (and making a huge impact on the culture of the day)? Clearly not.
Atlas wasn't worried about the people who might not like what he had to say. He wasn't trying to convince them of anything. But the men who could relate to these messages were more than happy to send him money.
This is what Charles Atlas stood for, and he became an icon taking that stand in his unique, in-your-face manner.
So, what's at the heart of your business, product or service? What do you stand for? Boldly take your stand right there, even though some people won't like it.
(Example: In the copywriting arena, there's always the long copy vs. short copy debate, or direct marketing vs. Madison Avenue-style general advertising. It's simple enough to pick a side, and when you do, you instantly inherit opposition.)
There are 3 kinds of people you'll encounter: 1) people who want what you offer, and with whom you can have a mutually profitable relationship, 2) those who never intend to buy from you and 3) people who don't know you. If you want your business to become everything it's capable of becoming, you need to tell your story, stand up for your position and be yourself. You and your message will resonate strongly with the people in group #1.
Who cares about group #2? Does it matter if they hate your ads or are offended by your stance on issues?
Individuals in the 3rd group will self-select their way into one of the first 2 groups as they get to know you.
Here's the thing: if you dilute your message to appeal to everyone, it's more difficult to tell the difference between people who are really with you and the ones that are "tire kickers."
"Hard sayings" have a way of pre-qualifying your crowd.
In His 3 year earthly ministry, Jesus never backed away from the speaking the truth, even when it was harsh. As a result, He made more enemies than true followers. But in the subsequent months and years, those faithful few turned the world upside down for Him.
So here's the point (which I've probably taken too long to get to): you can water down your message or choose not to take a bold stance on issues that are important to you and you'll have access to a bigger crowd. But that crowd will be full of lukewarm listeners.
On the other hand, you can tell your story full-strength and create fired-up disciples and evangelists along with some folks who really dislike you and your cause. But there will be no lukewarmness.
Which way will you choose?
Tags: "christian entrepreneur"  business  marketing  advertising  messaging  bible