Got a question for you:
Are you the man and husband you decided to be? Or did you get to this point in mostly on autopilot?
Seems like a strange question, but I have a good reason for asking you.
A buddy of mine is offering pre-release copies of his book, Husband on Purpose: Your 30 Day Action Plan to Become a Better Man and Build a Better Marriage, for free until the end of the month. If you aren't the best husband you can be — but you'd like to be — I think you'll want to get your hands on this book.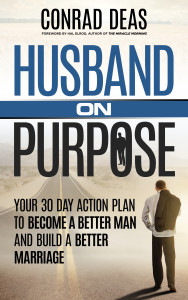 I got to read an early version of the manuscript and I've gotta tell you: the message is phenomenal.  I don't want to sound hypey, but I believe it could revolutionize a lot of marriages. It's really helped me  get my head on straight — and I thought I was doing pretty well!
"Most of us get married on purpose…then we end up being a husband by accident."
Conrad Deas (the author) is one of the most intelligent and passionate guys I know. In this book, he lays out specific action steps to help men, including the boneheaded among us, find out what their wives want and give it to them EXACTLY the way they want it.
Impossible? Conrad shares a simple way to cheat your way to success. (Actually, this IS impossible if you don't cheat.)
I'd like to tell you the path to becoming a Husband on Purpose is easy. That would be dishonest. The road gets tough sometimes…but it's not as tough as having a crappy marriage.
If you're interested, you can get a free PDF copy at http://www.husbandonpurpose.com/. You will have to opt in with your email address, though.
Husband on Purpose has earned my highest recommendation.
P.S. If you know of any men who could use some advice on reading their wives minds, would you mind passing the link along to them? Don't forget: the FREE pre-release copy will only be available until August 31st, 2015.
Progress doesn't happen accidentally. Don't settle for being less than a purposefully-growing husband.