As a soldier, what main characteristic did David possess that allowed him to defeat Goliath, who was bigger, stronger and more heavily armed?
Most people will say that it was his agility or speed. Just moments before the battle, David decided against suiting up with King Saul's armor to maintain his mobility.
More important than these things, though, was his willingness and ability to choose the terms of the fight. Even though he was very confident in his physical strength (he'd beaten wild lions and bears in the past), he picked up stones and decided to take out the giant from a distance. I'm inclined to believe David would still have been victorious over Goliath in hand-to-hand combat, but there was no need for that.
He took a weapon he was skilled with and slew the Philistine champion before the fight even began.
When your small businesses square off against entrenched competitors… ones that are bigger, stronger, better-known and better-equipped than you… you can learn a few things from the young warrior David.
Setting up Battles Where Your Victory Is Inevitable
There is a strong temptation for look at your potential customer base and think, "If I drop my prices, more people will buy from me. That's what everyone else is doing." In most businesses, special offers mean discounted prices. Every conceivable holiday is an excuse to offer a sale. And some of your big competitors spend thousands or even millions of dollars broadcasting these discounts.
How can you compete with that?
Make no mistake: low prices are attractive. There will always be a market for cheapness. That's probably the biggest reason why a huge percentage of startups open their doors with plans to become the low-cost provider for the customers they'd like to serve.
But unless you have the buying power of Walmart or its equivalent in your industry, that's a tough fight to win.
Take a page out of David's book. Pick your battles strategically. What do you offer that's better than everyone else who is competing for the customers you want?
Your lunch menu is healthier than McDonald's.
Your plumbing work is guaranteed for twice as long as anyone else in town.
Your T-shirt brand has been worn by more rock musicians in concert than any other brand this year.
Force The Comparison
In general, you don't want a potential customer to be able to make an "apples to apples" comparison between your product or service and that of the guy who insists on cutting his prices to the bone. All other things being equal, the customer will buy the less expensive option.
You can't allow other things to be equal.
It's essential that you create some differentiator that forces the consumer to make an "apples to orange" comparison.
Your marketing and your sales people force the comparison between your product and the competition at the point of differentiation.
"Look how healthy our lunch menu is!"
"No one guarantees their pipework for as long as we do."
"If you've been to any concerts this year, you've noticed how popular our brand is with your favorite rock stars."
Juxta-position your product in a way that appears unique, especially if your product or service is seen as a commodity.
Create Your Own Category
Have you ever noticed how many different choices are available for chicken eggs at your local grocery store? There are probably dozen options (yes, I thought that was funny).
What's really interesting is the price difference between some of the choices. For example, your "average" large eggs sell for $1.79/dozen at this particular store. Eggland's Best Vegetarian eggs normally sell for $3.79/dozen. That's more than double the price of your "commodity" eggs.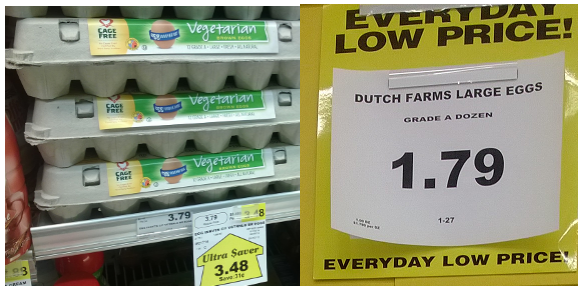 How does that happen?
Eggland's Best has capitalized on a key differentiator. This type of egg is in a distinct category: cage-free, vegetarian brown chicken egg.
This destroys the "apples to apples" comparison and forces the customer to consider whether it's more important for them to save a couple bucks or treat himself to this special kind of egg.
Dutch Farms (the Goliath in this example) probably sells a lot more eggs at the much lower price. But Eggland's Best (David) is carving out a nice corner of the market to dominate.
Can you think of a way to create a special category for what you sell?