Email marketing results are measured in a few different ways: open rate, clickthroughs, revenue, etc. Open rate is one of the most widely-used and probably the one we have the most control over as marketers.
Emails that don't get opened don't accomplish much else, so it's a good place to start.
I wanted to share the best email subject lines I used in 2014, as measured by open rate. These results are from my own email newsletter. Subject lines from my client work went as high as 81%, which is more of a testament to the quality of the client's relationship with his audience than my copywriting abilities, all the way down into single-digit percentages. I don't like to talk about that part.
Here are my top five from last year, and why I think they worked so well. There is also a quick summary at the end with key takeaways you can use right away.
#1: Kindle Book Giveaway from Two of My Favorite Marketers – 47.3%
No matter how overused it seems, "free" still works. But in a time when there's so much information available for no charge, even free stuff needs to be sold.
Because I've earned the trust of my subscribers, and they know I won't put anything in front of them unless it's valuable (or fun), they listen to my recommendations most of the time. Pointing to a helpful free resource sounded like a good idea to them.
Note: the 3rd highest open rate I achieved in 2013 also pointed to a giveaway, also a Kindle Book. "One of the World's Most Trusted Email Marketers Wants You to Have This" got a 48.6% open rate.
#2: Why You Should Stop Thinking Big – 45.7%
Taking a position opposite what is popular also gets attention and generates curiosity. Common advice is almost always to think big. Saying that someone thinks too small is an insult.
Bigger isn't always better, as Volkswagen has proven.
Subtly, this subject line also implies that the reader is doing something wrong, something they never even thought to question. Curiosity and self-interest practically force him to open the email to find out if he's making the mistake of thinking too big, and how he can fix it.
#3: <First Name>, This Is Probably the Main Thing Holding You Back – 44.2%
This subject line also speaks to the reader's self-interest. If you've felt held back at all…if you you haven't made as much progress as you had hoped…you want to know why. And how to fix it. This wording implies that there's "insider information" as to what's preventing you from being as successful as you want to be and offers hope that there's a solution close at hand.
I believe the body of the email offered some darn good insights that helped my readers move forward.
Adding the recipient' first name to the subject line may have also had an impact. I rarely do that, so this subject stood out as extra personal.
Taken in isolation, this is the most profitable single email I wrote all year.
#4: How to Be Assertive Without Making People Run at the Sight of You – 44.2%
A lack of assertiveness is a major pain point for me. A good portion of my list share some of my personality traits, so quite a few of them have the same problem.
On the other hand, many entrepreneurs, leaders and people in sales positions (who make up the majority of my audience) have no problem with being assertive, but they may worry about coming on too strong. I wasn't aiming this email at that crowd, but I'm sure some were drawn in anyway.
In fact, I wrote this email because of how much havoc my passive disposition was causing in the way I managed my time. Because a lot of my readers are a lot like me, I researched and wrote for myself, knowing it would help them as well.
A lot of your readers are a lot like you, too. Or, they're a lot like the persona you've created for your business, brand or spokesperson. That perception of interpersonal similarity and shared values goes a long way. Make the most of that resonance.
#5: Writing Copy to Sell Your "Crazy" Offer – 44.1%
My newsletter supposed to be about copywriting. Most of my readers connect with me for that reason. So it makes sense that subscribers would open an email that explicitly states it's about writing copy.
Also, everyone on my list would like to get more sales. I've made a promise in the subject line to help them out in this area.
This subject also connects this email to the previous one. Anyone who had read the previous newsletter (which was the 7th most-opened email of the year) would see a connection and probably want to follow the "continuing saga." The tie back to the last email opens a loop that can only be closed by reading the current email.
Speaking of crazy offers, have you heard about this one from Art Van Furniture?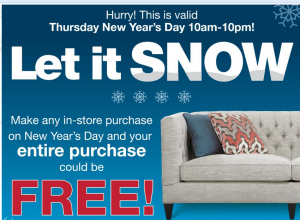 Who wouldn't like free furniture?
This store is driving action (sales) by making a crazy offer: if it snows more than 3 inches on Super-Sunday, anyone who buys furniture during the promotional period will get a full reimbursement.
Key Takeaways for Writing Subject Lines that Get Emails Opened
— Freebies still work. But just because they're free, doesn't mean you don't have to work hard to sell them.
Speaking of free, Creating Business Growth, a book I've co-authored, is available on Amazon Kindle for no cost until January 5th. It has already reached bestseller status in several countries. Get your copy here.
— "Curiosity is the strongest human incentive." Claude Hopkins
— Appeal to the self-interest rather than the coolness of the thing you want to talk about. (E.g., this email is about email subject lines that have worked well for me, but I'm writing it because I know you're looking for ways to continually improve your email marketing results.)
— Solve problems. Offer hope.
— Remember the values you share in common with your subscribers. More than we tend to realize, people are looking to connect with people who are like them. When they see themselves and their values reflected in others, it's naturally attractive. As C.S. Lewis said, "Friendship is born at that moment when one man says to another: 'What! You too? I thought that no one but myself…'"
Email series work well. Leaving open loops from one message to the next increases readership. Talking about your chosen topic more than once also helps drive the point home.
Make big offers. You can't bore people into opening your emails.
For exclusive training to help you write better emails, faster than you may think possible, check out Emails That Make Sales.