Quick Copywriting Tip #6: Trust is EVERYTHING.
I got a bunch of hate mail a few weeks ago. Actually, the Vice President of one of my clients got hate mail…because of something I wrote.
Here's one of the notes:
"I DON'T KNOW WHO YOU THINK YOU ARE BUT YOU SENDING ME INSULTING EMAILS IS UNPROFESSIONAL AND I'M GLAD I DIDN'T GET INVOLVED WITH [ client name withheld] AND THANKS TO YOU NEVER WILL." (Emphasis mine)
The sales reps were upset that they had to deal with a barrage of emails like these.
The VP, whose name was on the offending message, had mixed feelings. Sales were through the roof (relative to the norm)…on a product that's somewhat difficult to sell. But "potential buyers" were upset with him.
As I said to the Mr. Vice President, "The people who complain are probably never going to become paying customers anyway. This kind of reaction is how you know you're doing it right!"
Direct response involves forcing people to pick a side and being willing to lose some people along the way — if you're doing it right.
"I'm glad I didn't get involved with you…"
Let's focus for a moment on the angry, all caps email I shared above.
The final line brings a crucial issue to light: you need to get good at gaining people's TRUST.
This guy suspected that he couldn't trust my client – and the marketing message that pushed him over the edge proved (in his mind) his suspicion was correct.
We all face this obstacle. But we don't always use trust as an opportunity.
In the copy I wrote, my client came across more as a salesperson (which he is) than an expert or leader (which is is). And it's hard to trust salespeople.
Everything in the message was true. Honesty isn't enough to make people trust you. It's just the beginning!
Earning the kind of trust that makes it easy (or at least easier) for prospects to become clients takes work.
Pillars of Proof
At a conference in Denver earlier this month, Patrick Bove, Senior Copywriter at Stansberry Research described 5 Pillars of Proof you should be using to defeat skepticism and win trust from your should-be clients. Here's a very quick overview from a mind-blowing session: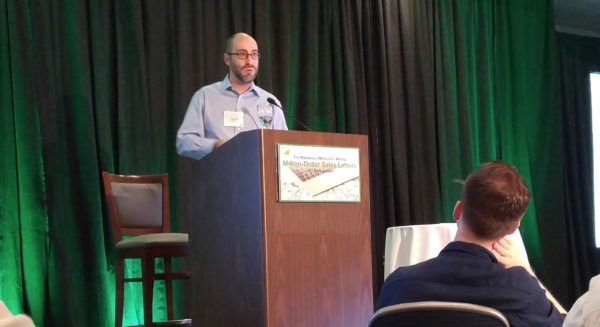 Proof of Character
Who are you? Why should I believe you?
What's your track record? What achievements can verify your expertise?
Proof of Story
How do I know you're not making this stuff up?
Are there 3rd party sources that verify the point you're making?
Proof of Catalyst
Why is your story important to me NOW
Proof of Product
Demonstration: Don't just tell me about your product. Show me it works.
Who does it work for and when? Who is it not right for?
Social Proof
Testimonials, case studies, etc.
Notice how testimonials are great, but they're just not enough to convince people anymore. If you want to make trust your supreme marketing advantage, you'll have to go much further.
The good news is, your competitors aren't doing any of this. Once you start implementing these ideas, you'll probably be light-years ahead.
—–
Check out the other 13 Quick Copywriting Tips here.